The June Bugs – Ages 15 mos. – 24 mos.
"The June Bugs" (15 mos. – 24 mos.)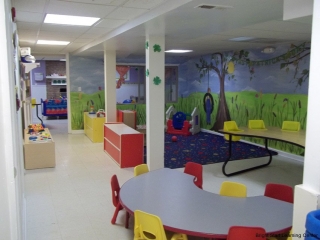 Pre-toddlers need opportunities to explore, be responsible and make significant choices.  They view the world with wonder and look to their caregivers for guidance. Developmentally appropriate activities are planned weekly.  The pre-toddler group enjoys books, songs, dancing, and art on a daily basis.  The class is set up with centers that interest toddlers.  A home center with child-sized furniture and props are available for our toddlers to pretend and role play.  A variety of toys are accessible on low shelves to encourage toddlers to choose independently.  A small, indoor climber gives an opportunity for them to slide and climb.  Music, art, small group time and outdoor time are part of the daily routine.  Following a daily schedule gives children a sense of security.
Our teachers understand that young ones don't always understand verbal messages and depend on their teachers to model and establish familiar routines.  A daily report is written for each child, each day they attend.  This gives parents information on how well their child ate, length of nap, and any other information a parent may want or need to know.
Each child is evaluated before transitioning to the next classroom and may vary depending on the child.