The Caterpillars – 3-year Olds
"The Caterpillars"  (3-year Olds)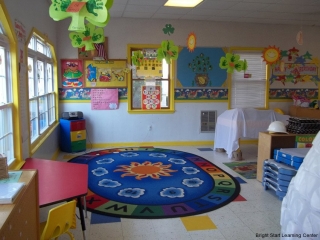 Children are eligible to join our preschool group when they are two and half years of age and able to benefit from a larger class size.  Preschool children are natural explorers. They are eager to find out how things work and why.  In preschool, children are beginning to learn to share and play cooperatively.  Friendships are becoming a cooperative effort and parents will enjoy hearing about  their child's emerging friendships.
Our preschool group offers a variety of independent and small group activities.  Pre-reading and pre-writing skills are learned through play.  When children color they are developing coordination for writing.  Listening to stories gives children an appreciation for books and language.  Pre-math skills such as sorting, counting, estimating and number recognition are introduced informally through play.
The classroom is spacious with activity centers, such as a home center with child-sized furniture and props.  A book area is provided with a sofa and chair to enjoy a good book.  A block area with wooden unit blocks, cars, plastic animals, multicultural people, and other building toys gives children an opportunity to create and imagine.  A writing center is available for children who might appreciate a structured introduction to learning pencil control.  Activities are planned on a weekly basis and revolve around the theme of the week.
Children are able to enjoy experiences outside while developing muscles and coordination skills when the weather permits.
Each child is evaluated before transitioning to the next classroom and may vary depending on the child.